12V 100Ah LiFePO4 Battery With Bluetooth LP12V100
size: 330*170*210
Descriptions: Bluetooth Communication Function
Total Capacity,Total Voltage,Temp and RemCap
Cycle life≥1000
12V 100Ah LiFePO4 Battery With Bluetooth LP12V100
Specification :
Electrochemical System : Lithium Iron (Lifepo4 ) Battery Pack
No.

Items

Specifications

1

Cell in pack :

Lifepo4 Cells

2

Nominal voltage

12.8V

3

Charge Voltage Range:

9V-14.4V

4

End of Charge voltage :

14.4V+/- 0.05V

5

Max Capacity

100AH

6

Minimal capacity

99Ah

7

Continuous discharging current

100A

8

Contiunuous charging current

100A

9

Peak current

300-500A /Second

10

Short circuit protection

Automatic recovery

12

Shelf life :

6 month typically before recharging

13

Cycle life

≥2000 times

13

Temperature shut down (Charge/discharge)

60°C

14

Operating temperature

Charging: 0°C ~ 45°C

Discharging: -20°C ~ 60°C

15

Storage temperature/humidity

Temperature -10°C ~ +35°C

Humidity 65%±20%RH

16

Dimension

345*175*215mm± 10mm

17

Weight

14.5kg

18

Battery Management system

PCM /BMS with I2C /HDQ commnication
Electrochemical System : Specification of PCM
Items

Content

Specification

Over charge Protection

Over charge detection voltage

3.750±0.025V

Over charge detection delay time

0.5S—2S

Over charge release voltage

3.550±0.025V

Over discharge protection

Over discharge detection voltage

2.20±0.05V

Over discharge detection delay time

10mS—200mS

Over discharge release voltage

2.3±0.05V

Over current protection

Over current detection current

400±50A

Detection delay time

5ms—20ms

Release condition

Cut load,charge release

Short protection

Detection condition

Exterior short circuit

Detection delay time

200-500us

Release condition

charge release

Temperature

Operating Temperature Range

-40~+85℃

Storage Temperature Range

-40~+125℃
Plastic shell with many colours, several solution; for your option:
330MM 173MM 216mm
Smart Phone App Screen (for reference)
The OBM / OEM / ODM Service with regard to APP Bluetooth Control 12V 100Ah Solar Li-ion Lipo LiFePO4 Lithium Polymer Battery Pack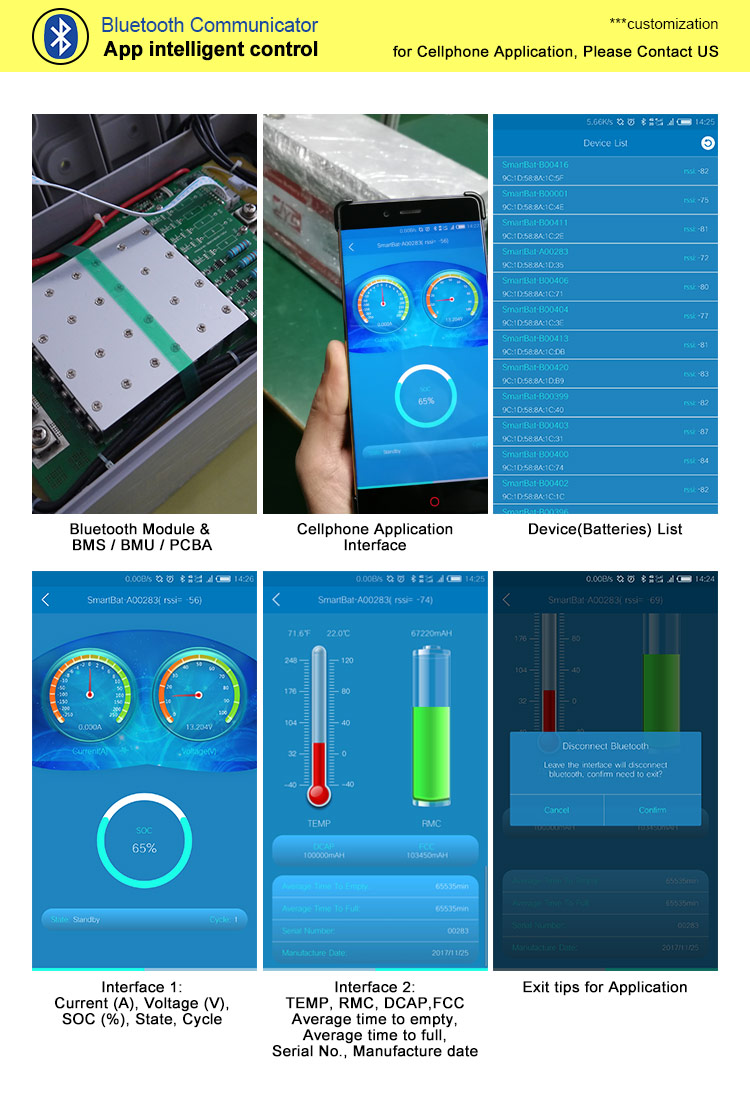 Lithium Battery BMS / PCB / PCM

Lithium ion cells should always be used with a protection circuit to protect the cell from over charging or over dis-charging,over current ,short circuit ,over temperature, balancing .etc , Choosing the correct circuit and applying it appropriately is vital to the longevity your batteries and your own safety.
BMS / PCB / PCM is the "heart" of Lithium battery pack. BMS (Battery Management System) is any electronic system that manages a rechargeable battery (cell or battery pack), such as by monitoring its state, calculating secondary data, reporting that data, protecting the battery, controlling its environment, and balancing it.
Down the content
Give me a message